5 Fascinating Facts About Online Advertising
As you no doubt know already, PPC advertising is one of the most powerful and scalable tools for any digital marketer. Budgets can be low or high and it is easy to see whether there is a good return on investment. Campaigns that do well and generate sales can be scaled up, and those that are unsuccessful can be stopped.
Long gone are the days when the only options for advertising were difficult-to-track, one off payment adverts on TV, radio or in print. Even the early days of advertising online, when people would only be able to pay high prices for un-targeted banner adverts, directory listings or button links. Or even high cost per impression advertising campaigns.
Online advertising, including PPC advertising has matured over the years and is now one of the most enticing options for small businesses to put their marketing budget into.
For those of you who use online advertising, as well as those of you who could use it in future, here are five facts about various types.
1. Every $1 Spent on Google AdWords generates $2 in Revenue
This is according to Google (source: Wishpond): basically a ROI of 2 for every 1 spent. Personally, I've managed to get better ROIs than that through Adwords. Adwords is the place to find people looking for what you do. It can be expensive at times, and if nobody is searching for what you do (as is the case for truly unique and innovative products and services at times) then it may not be so useful, but for new businesses entering an established market, search advertising is key.
2. An ad in the first position gets an average click-through-rate of 7%
(Source: Wishpond) The higher you are in the search results, the more likely you are to get the clicks. This is why it's so vital that you put your efforts into SEO, but also, if a keyword is generating good sales via Adwords, upping the bids will bring in more traffic.
3. U.S. Mobile Display Ad Spend Is Set To Be Double Desktop Spend in 2017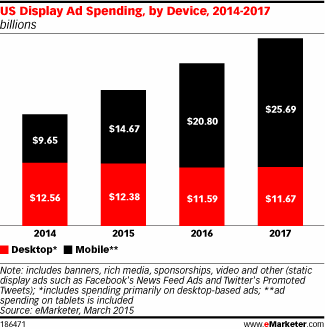 This is a true sign on the times. This figure, source: eMarketer truly highlights the shift from desktop to mobile for many users. 2015 was the first year in which mobile advertising surpassed desktop advertising, and in the past 4 years, Facebook's advertising growth has really been boosted by mobile.
4. Facebook leads the way in Display Advertising revenues in the U.S.
Again, according to eMarketer Facebook has lead the way in terms of display advertising. According to the research and statistics website, Facebook's Net U.S. Digital Display ad revenues are expected to reach $10.03 billion.
5. Remarketing Conversion Rates Increase Over Time
(Source: Wordstream) There are many small and large businesses that really fear using remarketing as they believe that it annoys people and creeps them out. The thing is, on a display network like Google's, people will see an advert anyway, so you're just putting your advert in a place where there would be one anyway, not being overly intrusive. As for creeping them out, by now, surely your customers are used to seeing remarketing.
For those of you who don't know what remarketing is, it's basically when you show your adverts to someone who has already visited your site, but may not have purchased. It's a way of keeping in their minds. It makes sense that the conversion rates increase over time as it can take many attempts to drive a sale in general, whether you're online, over the phone or in person. Remarketing allows you to stick in the mind of those who showed an interest in what you do.
What next?
Now you know some interesting facts, would you like to give Adwords, Facebook Ads, Display Ads or anything else a try, but don't know to get started, please read more about the PPC and Adwords services we offer.