Study Shows Internet Users Prefer To Find Local Products Through Search Engines
Whether looking to find a local restaurant, a dentist, a cafe or a dry cleaner, search engines are the key way for most consumers. In fact when people are shopping local, they are more likely to rely on search.
A new study, reported in eMarketer was conducted by Burke for the Local Search Association (LSA). The March 2017 survey found that eight out of 10 respondents in the United States said that their top choice among digital and non-digital sources to look up local business information was search engines.
80% of respondents said they had used search engines to find local products or services in the week leading up to the survey, and 87% had used search in the month leading up to the survey.
Company websites came second in the chart, taking 63% in the week leading up to the survey and 73% in the month leading up to the survey.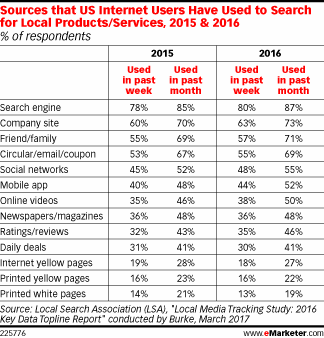 As a sign of the times, printed yellow and white pages ranked at the bottom of the survey, just below internet yellow pages.
The study also asked respondents what their most trusted source, what they saw as the most accurate source and what they preferred to use when ready to make a purchase. The most trusted and most accurate was search engines, but company sites are what the most consumers choose to look at when ready to purchase.
What does this mean for local businesses?
This study, although focused on the U.S. really highlights the importance of visibility in search results. This includes organic search and paid search.
I have seen a number of local businesses put all of their efforts into print marketing and social media marketing, which is no doubt important, but search really shouldn't be neglected.
In the study, social networks were used by 48% of the respondents in the week prior to the study and 55% in the month prior. When ready to purchase, just 2% prefer using social networks to get information.
Obviously these other marketing sources including social media, mobile apps and coupons do have a lot of use away from simply visibility and pre-purchase reference, but the data highlights the need to get SEO and PPC up to scratch to pick of those customers who are ready to make a purchase.
It also highlights the importance of having a website that has clear information, presented well. This is vital for convincing website visitors to make the trip to the physical location to make a purchase. A poor online experience can cost a lot in terms of lost opportunities.
It is likely that ten years ago, print media had more of a share of these opportunities, and in future we will see more digital channels ranking in surveys like this, but for now, search is key. To take advantage of the opportunities out there, whether you are running a restaurant, a bar, a local shop, a café, a bakery, a takeaway or any other local business, you need a good website and to be visible in the search engines that are used in your local area.
If you would like to discuss your website, SEO and PPC with me, please get in contact.